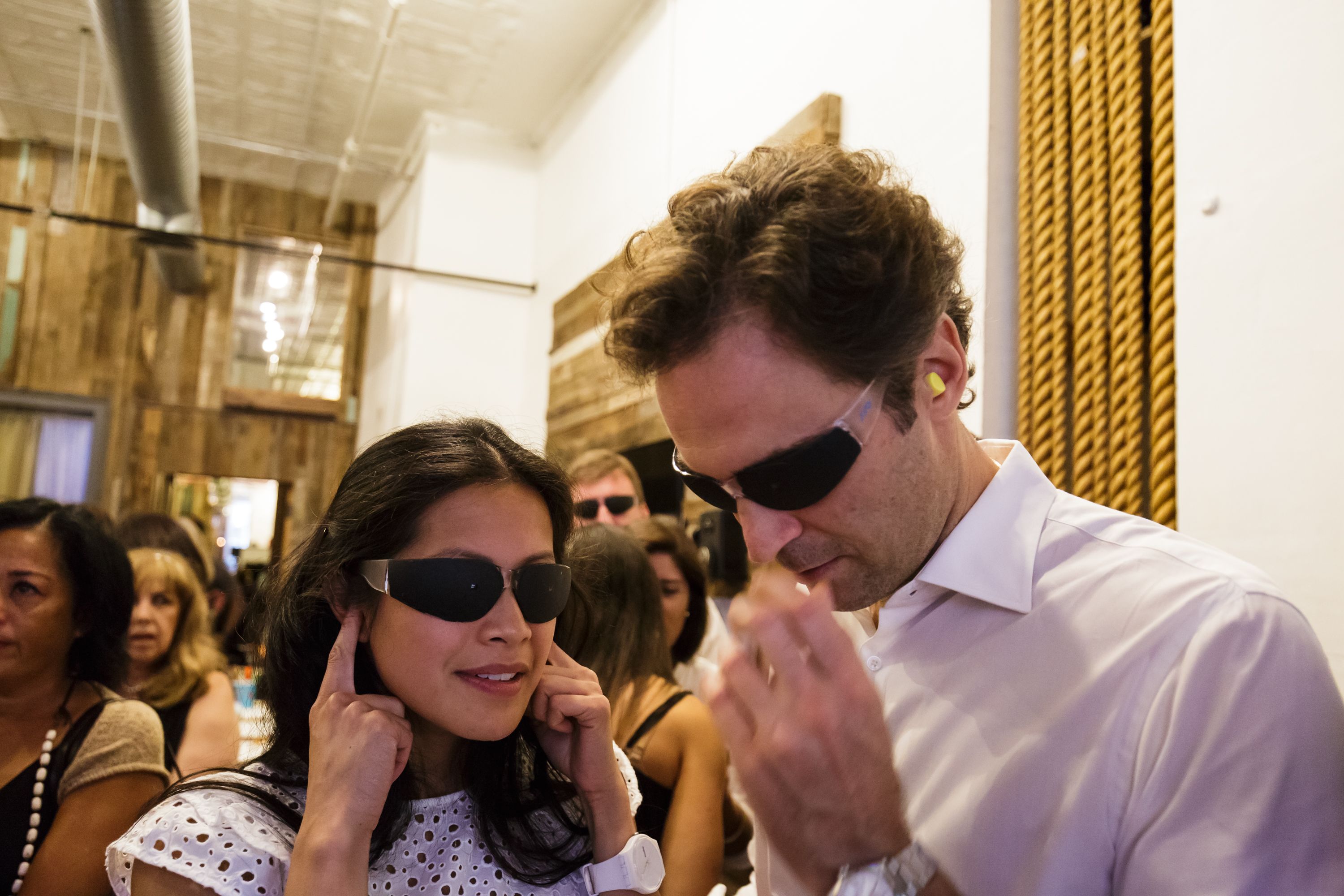 On Saturday. September 17, Kidz b Kidz (KbK) was proud to sponsor an event to raise awareness of Usher syndrome (USH) in SoHo, New York City. KbK co-hosted the event with Sophia Boccard and Rebecca Alexander, both from NYC and both living with USH.
Sophia was diagnosed only 4 years ago with USH 2A; she was born with a severe hearing loss and is now experiencing vision loss. Rebecca was diagnosed as a teenager with Retinitis Pigmentosa, and was told she would go blind by 30 years of age. At 19, she was told she had a rare form of Usher syndrome type lll , and would also lose her hearing. Rebecca currently has a cochlear implant and very little vision left. Sophia and Rebecca were inspirations to those of us learning about the disease and how their lives are being affected.
The event was attended both by people who wanted to learn more about Usher syndrome, and others who are part of the USH community. Many of the attendees are living with USH 1, and are completely blind and deaf. They used tactile signing to communicate which was amazing to those people who have never experienced this form of language. Evan McGlinn, a NY Times photojournalist, was able to take portraits and collect stories of additional people living with Usher syndrome which will become part of our current KbK campaign; Shine a Light on Usher Syndrome.
The event's speakers included:
• Sophia Boccard : Her background is that she worked in Marketing at SiriusXM Radio for 8 years and Live Nation Entertainment for 2 years before leaving the entertainment world to help her parents out with their family boutique hotel located in Mazatlan, Mexico as Marketing Director. Sophia introduced (and organized!) the event and spoke about her passion for spreading awareness of Usher syndrome.
• Nancy O'Donnell: The Director of the International USH Trust Registry and a certified interpreter. Nancy gave us a PowerPoint presentation on Usher syndrome, the importance of genetic testing and the significance of the USH Trust Registry.
• Susanne Morgan Morrow, MA, CI, CT: A Deaf-Blind Specialist and dually certified Sign Language Interpreter. Suzanne led us through a series of exercises to help us understand more deeply what it feels like to lose both hearing and eyesight.
• Rebecca Alexander: A psychotherapist and author, who has appeared on Today, Morning Joe, and The Meredith Vieira Show in discussion of her book, Not Fade Away, about living with Usher syndrome type III. Rebecca talked a little about hearing with her cochlear implant and also told funny anecdote of an experience she had in New York with her white cane.
• Nancy Corderman, the co-founder of KbK, spoke about being the mother of two children living with USH, and how this experience has made her determined to raise awareness for this disease.
• Jan Weinshanker, the co-founder of KbK, spoke about the Kidz b Kidz mission to utilize the power of empathy through photojournalism and art to raise awareness and funding for Usher Syndrome (USH).
A huge thank you to both Nancy O'Donnell and Suzanne Morrow for all their help interpreting throughout the afternoon!