DREAM BIG AND FIND A CURE FOR CLARA AND FRIENDS
I would like to introduce you to my granddaughter, Clara Mae Obermeier.  Clara is 2 years old and was born with Usher syndrome 2A. There are no words to explain the blessings grandchildren bring to your life.  Clara is fun, smart and loves life to the fullest.  She has a smile that melts our hearts and she truly wants EVERYONE to be a part of every adventure she goes on.  She will always say; "Mommy go too?  Daddy go too?  Mi Mi go too?  Poppy go too?"   It's as if she doesn't want anyone to miss out on the next great adventure in life.  She loves pretend play, Sesame Street, and giving her a sucker always puts the biggest smile on her face.
 When Clara was born, she was diagnosed with moderate to severe hearing loss in both ears.  As a family we were devastated, but we leaned on our faith and knew our path would eventually become clear. It took 4 months to get the genetic test back, which informed us she had Usher syndrome Type 2A.  When we heard those words, we had no idea what it meant. We soon learned that, along with hearing loss, Clara would start to lose her eyesight in her teen years.  We quickly began to research this genetic disease and educate ourselves through conferences offered by the Usher Syndrome Coalition. It was then we understood that Usher syndrome is unknown to most people.
We all seek and want the best for our kids and grandkids, and after Clara's diagnosis, we asked ourselves,
"What can we do to help?"
The answer that came to us first and foremost was "Dream Big". By believing in the power of ourselves and our community, we realized that we really could make a difference in the course of Clara's diagnosis, especially if we come together.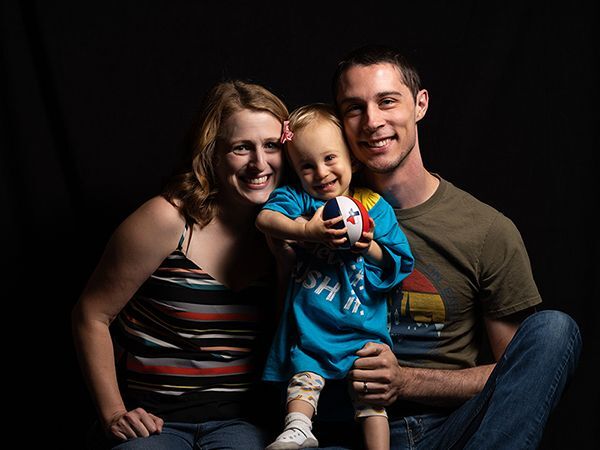 There is so much exciting research emerging for Usher syndrome and we see how this research can directly benefit Clara's vision and hearing. The only problem: This research needs funding.
My ask of you is to join us in Dreaming Big and help support the critical Usher syndrome research happening around the world by making a donation below. Any amount makes a difference. Imagine the impact we can make if we each were to give up just ONE item per month, whether it be a Starbucks coffee, a meal out, a golf game, or a shopping trip, and instead we make that amount into a monthly donation! 
Your donation, no matter the amount, brings researchers one step closer to helping my granddaughter, Clara, grow up with the ability to see and hear the world around her and I cannot tell you how much that means to me. Thank you.

If you are willing to donate monthly, or even one time to this cause, please provide your information below. Any amount will make a difference.
Your donation is secure and tax exempt. The Usher Syndrome Society is a registered 501(c)(3) Tax ID#: 26-1577154