IT WAS GREAT TO BE BACK AT THE USH 2022 CONNECTIONS CONFERENCE THIS YEAR!
It was very special to see everybody at the USH2022 Connections Conference in Austin, TX, which took place on July 8-9. We are so inspired by all the incredible work happening in the USH community. 
Thank you to the Usher Syndrome Coalition for putting the conference together and providing an opportunity for the Usher syndrome organizations to come together to learn from and collaborate with one another.
The Usher Syndrome Society was proud to be an integral part of the conference, presenting our latest research, building upon our global awareness exhibit, providing financial support for attendance scholarships, and offering a collectible conference t-shirt. 
---
USS TRANSLATIONAL RESEARCH GRANT UPDATES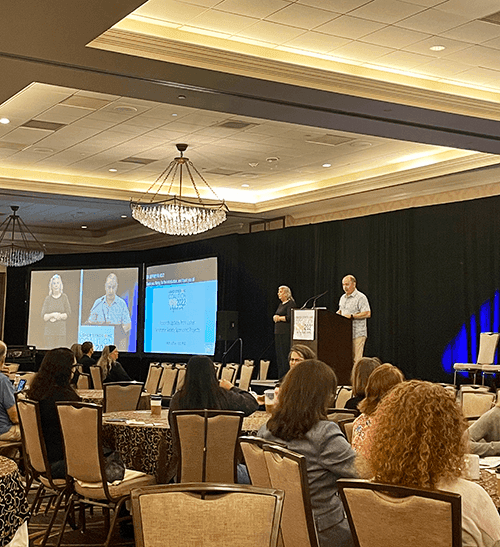 Earlier this year, the Usher Syndrome Society selected 3 recipients for our grant to support translational research on Usher syndrome in either Preclinical Research and/or Mechanism‐based Therapeutic Development. The selected grantees are conducting the following research:
1.  A screen for compounds that prevent or slow retinal, auditory, and vestibular cell death in all types of Usher syndrome.
2.  Rescuing a common deep intronic USH2A variant by single gRNA Enhanced‐Deletion Cas9 genome editing.
3.  Preclinical Development of Patient‐Customized ASO Therapies for Usher Syndrome
At the USH 2022 conference, Dr. Jeffrey Holt, Chair of the USS Scientific Advisory Committee, presented research updates on all 3 of these exciting projects and we look forward to sharing more updates soon. 
---
SHINE A LIGHT ON USHER SYNDROME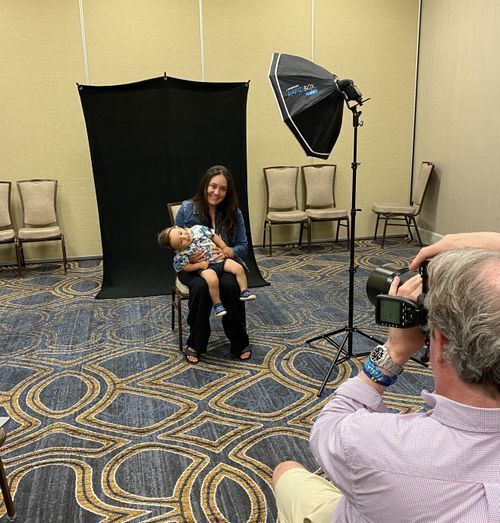 The Usher Syndrome Society is excited to share that we took over 30 new portraits for the Shine a Light on Usher Syndrome traveling global exhibit!
These portraits are taken by New York Times photojournalist, Evan McGlinn, and depict individuals of all ages who are living with all types of Usher syndrome. The portraits are an opportunity for those with Usher syndrome to share their story. 
A very sincere thank you to everyone who participated and who shared their story with us. Stay tuned to see these new portraits in our next exhibit!
---
USH2022 CONFERENCE TEE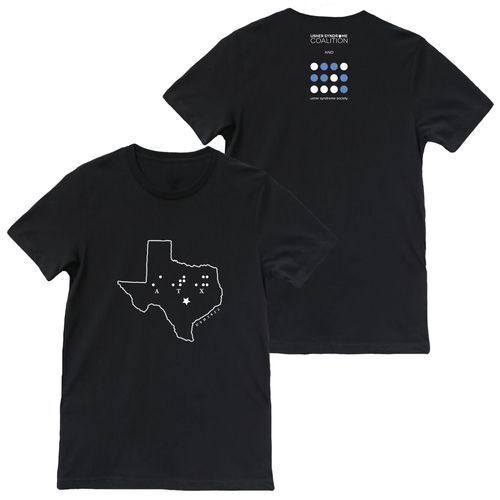 The 2022 Conference Tee is back in stock and available to purchase now!
Due to high demand at the conference, we sold out of the shirts we were selling in-person, however we have restocked and you can now purchase the conference shirt directly from our website (shipping included)! 
The Tee features the letters "ATX" in braille and a map of Texas. The back of the Tee features the Usher Syndrome Coalition logo and the Usher Syndrome Society logo.
---
Your support truly makes a difference – especially with a rare disease! 
If you're interested in getting involved or sponsoring an event, contact us at info@ushersyndromesociety.org or donate now to make an impact today.