Peggy Borst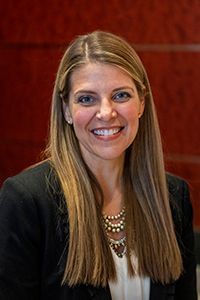 Peggy Borst was diagnosed with Usher syndrome (type 2A) in 2010. After many years of going through the vision loss grief process, Peggy is fighting back to not realize her fate and has joined forces with the Usher Syndrome Society to do so.
Peggy has a degree in Business Management with a minor in International Business from Virginia Tech. She is currently the Business Manager for a small information technology firm, Fortitude Technologies. Peggy has applied her project management skills to helping Fortitude Technologies achieve its goals relating to recruiting, project management, human resources, public relations and company culture.
When not volunteering for USS, working at home or Fortitude, Peggy is doing Zumba with her young daughters, digging in her garden, volunteering at her daughters' schools and leading her daughter's Girl Scout Troop.